Past Productions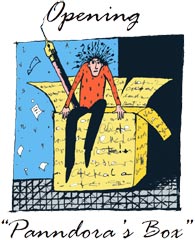 Panndora's Box 2022
Oct. 7, 2022 — Oct. 9, 2022
Sweet Sixteen (And Last) New Works Festival
Venue The Garage Theatre
FRIDAY, OCTOBER 7 at 8pm
MOB MOLL by Rachael Powles | directed by Karen Wray
After their forbidden love is exposed, Frankie and her girlfriend Betty begin a new life in Prohibition-Era New York. When their mysterious landlord Mr. DiCarlo comes to Frankie with an unusual business proposition, the promise of a life of secret stability is too good to refuse. But DiCarlo has secrets of his own. Soon Frankie is swept into the bloody yet glorious world of the Italian mob and discovers what it means to be a good person in a world where your mere existence is enough to make you evil.
SATURDAY, OCTOBER 8 at 1pm
HAVE TO BELIEVE WE ARE MAGIC by Sara Guerrero | directed by Melanie Queponds
Part biographical, part magic, a love letter to a Pocha-Chicana-Latina, coming-of-age time of roller-skating, life after high school, making big life decisions, family, friendships, guns, sex, love, self-discovery, abortion - all under the shadow of "The Magic Kingdom," (or "The Tragic Kingdom") in central Orange County, California in the summer of 1994.
SATURDAY, OCTOBER 8 at 4pm
OLIVE PITS AND OTHER SURVIVORS by Tracy Chutorian Semler | directed by Pete Taylor
What if the person you most despise is the very person who can save you? Rami, a young Palestinian man, and Ruth, an elderly Jewish American woman, are both grieving and alone in the world when they meet in a funeral parlor, stumbling unexpectedly into one another's lives. Their painful backstories, and closely-held resentments, have come to define them. "Olive Pits and Other Survivors" is a tale of what's possible when we dare to see our enemy's humanity; when we risk opening our hearts and reach across the divide.
SUNDAY, OCTOBER 9 at 1pm
ALL THE OXYTOCIN IN YOUR FINGERTIPS by Cary J. Simowitz | directed by Sonja Berggren
ASL. ASMR. TUT. A Deaf of Hearing individual, raised in a caustic 1990s household where sign language is forbidden, secretly navigates three different communities that are united by a passionate belief that communication (and love) can ignite from all the sparks alive in your fingertips. This coming-of-age story poses the question: "Would you rather be a 'different' person in a 'normal' world... or a 'normal' person in a 'different' world?"
SUNDAY, OCTOBER 9 at 4pm
GOLDEN GATE by Lindsey Kirchoff | directed by Rebecca Taylor
Widowed for a year, Beth can't take any more grief books or mindfulness yoga classes. Her new plan? Jump off the Golden Gate Bridge. But before sarcastic Beth can take the leap, she is rudely interrupted by Izzie, a rambunctious young backpacker, and Elle, a reluctant single professional. Rather than face the police, Beth agrees to spend the night with the world's worst Good Samaritans—and explore the unexpected connection between them.
HONORABLE MENTION ~
We are also pleased to give HONORABLE MENTION to five more plays that made it to our TOP TEN:
AGATHE by Angela J. Davis
DRIFTWOOD by Donald Loftus
MORNINGS WITH JUNE by Karen Saari
THE NONESSENTIALS by Lynda Crawford
UNABASHEDLY by Mike Teverbaugh
---