Past Productions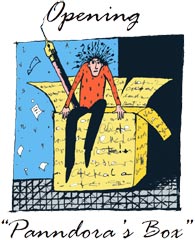 Panndora's Box 2019
Nov. 1, 2019 — Nov. 3, 2019
Lucky 13th Annual New Works Festival
Venue The Garage Theatre
Friday, Nov. 1, 2019 @ 8PM
GOD, WAVING by Linda Whitmore | directed by Karen Wray
"God, Waving" is about a Christian, a Jew and a reincarnationist who, for lack of a better term, lose their religion when they are swept up in a series of weird and profound events that they can't control or explain. Meanwhile, an atheist tries to talk sense into everybody.
with Sonja Berggren, Derek Long, Pam Paulson, Pete Taylor, Rebecca Taylor, and Karen Wray
Friday, Nov. 1, 2019 @ 8PM
EAST ROCK by Kevin Daly | directed by Pete Taylor
"East Rock" centers on a middle age engineer whose life is brought into conflict when his adult son from a previous marriage moves into his home after being released from prison. The stipulations of his son's parole, concerns from his predominantly white neighbors, and tensions within his household, all blend to confuse his understanding of how best to help his son.
with Leandro Cano, Erik Pfeifer, Indushree Rajan, Pete Taylor, Rebecca Taylor, Eduardo Torres, Tiffani Williams, and Karen Wray
Friday, Nov. 1, 2019 @ 8PM
THE DEATH OF HAYDEN WAVERLY, THE MOST POPULAR PERSON IN THE WORLD by Lauren Wimmer | directed by Derek Long
In the wake of the The Most Popular Person In The World's death, Naomi strives to be the next T.M.P.P.I.T.W. Eli joins The Terrified of Death Club to get over his fear of impending doom. When the head of the club, Nelson, is diagnosed with a terminal illness with no cure, these three characters must reevaluate the true meaning of friendship before it's too late. A buddy tragicomedy about people without buddies except for a dead raccoon named "Buddy."
with Caitlin Lowerre, Christian Olivo, Ryan de Quintal, Vincent Ramirez, and Meg Risely
Friday, Nov. 1, 2019 @ 8PM
IN MY BONES by Doc Andersen-Bloomfield | directed by Sonja Berggren
Simidele, a West African teenager with an horrendous history, not to mention, attitude, meets/collides with Antonia, a straight-laced professor of Botany with secrets of her own, as they are forced to become room-mates, detainees in the Brideswell Immigration Detention Centre, England. Agassou, a magical panther, who resides in the gigantic Baobab tree over Simi's bed, watches over her, guiding her magical juju gift. "In My Bones" is also the story of two very different women's relationship and their eventual friendship, born out of the need to trust . . . and survive.
with Kea Bird, Craig Johnson, Aurelio Locsin, Tiffani Williams, and Karen Wray
Friday, Nov. 1, 2019 @ 8PM
STILL FIGHTING IT by Anna Cain | directed by Pam Paulson
On Adriana's 30th birthday, her estranged father surprises her with a visit, asking for a second chance and refusing to leave the city until she lets him get to know her as she is now. Her live-in boyfriend, Jeremy, pushes her toward reconciliation and The Cat, an imaginary not- quite-friend only she can see wants her to address everything she's been running from. In order to heal, sometimes things must fall apart.
with Joshua Evans, Caitlin Lowerre, Kathy McCarrell, Pete Taylor, and Rebecca Taylor
HONORABLE MENTION~
Because we can only present five plays this weekend, we give HONORABLE MENTION to five more plays that made it to our TOP TEN:
I HEAR YOU by Tracy Chutorian Semler
JESUS FREAK PUNK ROCK FAGGOT by Dave Barton
PARANORMAL LOVE by Jennifer O'Grady
REGULAR JOES by Jennifer Rowland"
SIGNATURE PHOTO by Michael Bucklin
---