Past Productions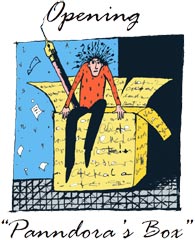 Panndora's Box 2015
Oct. 23, 2015 — Oct. 25, 2015
9th Annual Festival of New Works
Venue The Garage Theatre
9th Annual Festival of New Works
"DOMESTIC ANIMALS"
by Jennifer Faletto
directed by Sonja Berggren
At the height of the Vietnam War, Lori's brother dodges the draft and her boyfriend enlists. Left alone, she disappears into her imagination. Domestic Animals is a journey into the unknown parts of ourselves; the parts that glint, slaver and howl.                                    
with Matt Anderson, Mirabella Magana, and Rob Young
"WHERE IS EVERYBODY?"
by Kevin Daly
directed by Derek Long
In Where is Everybody? (full-length comedy) a retiring high school physics teacher attempts to connect with his two adult sons by giving himself fully to his oldest son's imaginative entrepreneurial ideas.
with Pete Taylor, Nick Emmett McGee, and Paul Knox 
"THE WEYWARD SISTERS"
by L.L. West,
directed by Pete Taylor
Charged with bewitching a young, kilt-wearing, ambitious Scottish soldier, the Three Weyward (Weird) Sisters plot their course. Forbidden to utter his proper name, they speak of him in hushed tones as the Celtic Chap or the Gaelic Guy. There's a slip of the tongue, a misplaced prophecy and their scheme goes horribly awry. Faced with the ruination of Scotland, they must gather their limited supernatural forces and change the course of history. 
with Sonja Berggren, Rebecca Taylor, and Karen Wray
"SWEET TEXAS RECKONING"
by Traci Godfrey
directed by Pete Taylor
Ellie Wolcott, a Southern Baptist woman fearing a tepid and lonely old age, attempts to reunite her daughter, Kate, with long time paramour Alan John in order to salvage her remaining years with some semblance of dignity. When Kate shows up with an unexpected guest, Ellie is forced to confront many demons, including her ideas about race, biology, bigotry, and sexuality. 
with Rebecca Taylor, Derek Long, Vanessa Evans, and Karen Wray
"SPIRALLING"
by Judith Pratt
directed by Rebecca Taylor
A mysterious crate of tribal masks appears in the office of a disaffected academic and her struggling young grad student. In solving the mystery, they discover what happens when westerners use other people's cultures for their own growth—and about their roles as women. Science and spirituality go to war in this drama about responsibility and leaps of faith. 
with Sonja Berggren, Carmen Guo, and Karen Wray
HONORABLE MENTION ~
"COMMUNION" by Ben Jolivet
"IN THE SECRET CITY" by Lisa DeAngelis
"LADY ON FIRE" by Frank Farmer
"POPE JOAN" by Bella Poynton
"TBD: TO BE DETERMINED" by Paul Elliott
---