Past Productions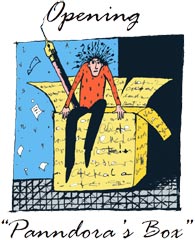 Panndora's Box 2021
Nov. 12, 2021 — Nov. 14, 2021
15th New Works Festival
Venue The Garage Theatre
FRIDAY NOV 12 @ 8PM
PINEAPPLE AND OTHER OPTIONS by Jeanmarie Simpson
Newly retired social worker and rookie crisis hotline volunteer, AJ sits alone in the office desperate to save Helen from herself. As Helen slips between the worlds after eating a huge assortment of pills, Elizabeth "Betsy" Pennington greets Helen and takes her on a journey designed to convince her to return and invent a new kind of educational model. PINEAPPLE AND OTHER OPTIONS braids the stories of three women into a – literally – constructive theatrical experience.
with Sonja Berggren, Tiffani Nanka-Bruce, Pam Paulson, and Rebecca Taylor
SATURDAY NOV 13 @ 1PM
THE BREAKFAST AT THE BOOKSTORE by Lisa Langford
It's 1973, baby, five years after the 1968 Glenville Uprising. Dot wants to open a Black Revolutionary Bookstore. Sharpe, Dot's common-law husband and a former Black nationalist, wants anything but.
with Kea Bird-Hamilton, Craig Johnson, Ree Johnson, Pam Paulson, and Pete Taylor
SATURDAY NOV 13 @ 4PM
IF NOBODY DOES REMARKABLE THINGS by Emma Gibson
This afternoon, in the middle of a category 6 dust storm, a cargo ship took refuge in the local harbor. Joel is on board and he needs somewhere to stay. Paul thinks they should rescue him but Anna's not so sure. Not after what Joel did 14 years ago. A fierce new play about climate change and forgiveness that explores what happens when we reach the point of no return.
with Maura Grace Athari, Chloe Ness, Eric Pfeiffer, Bill Vetro, Karen Wray, and Pam Paulson
SUNDAY NOV 14 @ 1PM
MAMA, I WISH I WERE SILVER by Amanda L. Andrei
On a cold January day in 2020, Sofia and Ariel, two estranged Filipina American half-sisters, reunite in Virginia to clean out the photographs, papers, and letters of their recently deceased mother. When they find a cassette tape seemingly recorded on the 1972 declaration of martial law in the Philippines, when Ariel was born, they realize that what their mother left behind has a life of its own. If family history repeats itself, can we choose which ones to repeat?
with Trina Estanislao, Lovelle Liquigan, and Aurelio Locsin
SUNDAY NOV 14 @ 4PM
ABIGAIL by Sarah Tufts
When Hollywood director Ben Meyers is blacklisted after his inappropriate comments to women, his wife - renowned stage actress Savannah Wainscott - hires him to direct "The Crucible" on Broadway. But when he casts a YouTube star to play Abigail Williams, the beauty influencer's objections to the role's misogyny upend the play and all its players. A nuanced portrait of a marriage that unpacks an older woman's complicity as it collides with a younger woman's idealism, ABIGAIL exposes how the excuses we make for our revered giants work to perpetuate the cycle of predatory behavior.
with Maura Grace Athari, Joshua Evans, Erik Pfeiffer, Karen Wray, and Pete Taylor
HONORABLE MENTION ~
We are also pleased to give HONORABLE MENTION to five more plays that made it to our TOP TEN:
BREAKFAST WITH GANDHI by Traci Godfrey
HOW TO TALK TO NUNS by Juniper McKelvie
THE DUGOUT by Mike Teverbaugh
THE MIGHTY MAISIE by Bella Poynton
THE POET, THE SPY, AND THE DARK LADY by Emily McClain
---