Past Productions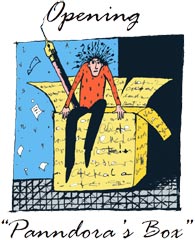 Panndora's Box 2020
Sep. 26, 2020 — Oct. 24, 2020
14th Virtual New Works Festival
Venue The Garage Theatre
A Rolling Virtual Festival
SEP 26 at 2pm
OF MEN AND CARS by Jim Geoghan
directed by Karen Wray
The Bronx was, and still is, a great place to grow up. It's ground zero for interesting, blue collar people and being funny is almost a rule. As a very young child I spent a lot of time with my father and I thought he was amazing. As I grew up I went through a phase a lot of young men go through; I began to see that my father had flaws and was not as amazing as I thought. Worse than that… I let my father know it. By the time I was on my own I realized I was also not as amazing as I thought I was. And I made it up to my father before it was too late.
with Joshua Evans, Pete Taylor, Rebecca Taylor, Philip Bushell, Erin Henriques, and Jeff Gilbank
OCT 3 at 2pm
GIRL PUSHUPS: THE SOLDIER EXPERIENCE by Caitlin Bassett
directed by Pete Taylor
A coming of age story set against the backdrop of modern-day military/warfare, viewed from the female perspective. We watch our soldier battle through inner and outer demons until she finally becomes the soldier (and woman) she wanted to be, but at a price she didn't know she'd have to pay. This play is as much an exploration of the every-soldier journey, asking the big questions about what kind of wars our country engages in and what it's asking the people who fight those wars to do, as it a feminist exploration of gender roles and what it means to be successful in such a male dominated world (i.e. being the 'right kind of woman').
with Caitlin Bassett, Tamika Katon-Donegal, and Fred Mancuso 
OCT 10 at 2pm
IN COMMON by Quinn D. Eli
directed by Sonja Berggren
Melanie is haunted by a voice that won't leave her head. Call it a ghost, a hallucination, or clear evidence of a mental collapse. It lingers as a reminder of a friend killed years ago: the friend was black, Melanie is white, and questions about why it happened—and who was to blame—come abruptly into focus when Melanie is drawn into a new relationship that offers her a brighter future, but no clear escape from the past.
with Cornelius Davidson, Erin Henriques, Maura Hooper, Eric Hunicutt, and Tomoko Karina
OCT 17 at 2pm
DELILAH by Niv Elbaz
directed by Derek Long
After creating Beast, Sam; a graphic novelist with epic popularity, struggles to find his next big hit. He is pushed by Laraine; a publishing agent of Dark Horse Comics, to break out of his comfort zone, while his seemingly optimistic best friend; Roland pushes him to get out of his head and live his life. Enter Delilah. She is a mystery, captured in only small fragments over the internet. She pushes Sam in ways the others can't. Finding solace in each other's company makes them feel slightly less alone in the worlds they've created for themselves. The story quickly progresses, all the while Sam feels like his life is spiraling out of his control as inspiration takes control of the characters and leads them all down paths they could have never expected.
with Zach Kanner, Colleen McCandless, Erin Henriques, and Jeff Gilbank
OCT 24 at 2pm
THE PLAY YOU WANT by Bernardo Cubría
directed by Jerry Ruiz
Fed-up by the theatre world's desires to box him in, Mexican playwright Lucas Cubría sarcastically pitches "Nar-Cocos" a play about drug dealers on Dia de los Muertos. Much to his surprise, the Public Theatre picks it up. With financial pressures mounting and a newborn at home, this is his chance at a commercial success. But when Scott Rudin offers him a Broadway run on the condition he further exploit his identity and the headlines, he must decide just how much he's willing to compromise in order to finally be accepted.
with Jorge Cordova, Sol Crespo, Gilbert Cruz, Alana Dietze, Christopher Larkin, Eric William Morris, Peter Pasco, and Erika Soto
HONORABLE MENTION  . . . . 
CASSANDRA COMPLEX by Lindsey Hope Pearlman
FLIT by Steven Kelleher
GREENWOOD by Coolidge Harris, Jr.
THE TOOLS OF IGNORANCE by Steve Karp
TOUCH THE MOON by Arianna Rose
---