Past Productions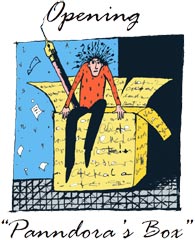 Panndora's Box 2018
Oct. 19, 2018 — Oct. 21, 2018
12th Annual New Works Festival
Venue The Garage Theatre
ANNA KARENINA ON THE ACELA EXPRESS by BEN JOLIVET, directed by Pete Taylor
Anna is young, brilliant, and destined for success. After getting her husband elected to congress, she turns her attention to the future—but a handsome would-be congressman and the forces of love and gossip could derail her. A modern riff on a classic, Anna  Karenina on the Acela Express examines the perils of being young, brilliant, and female in American public life.
A WOLF'S MOTHER by Cary J. Simowitz, directed by Sonja Berggren
July 1967. The Summer of Love. Spokane, Washington.
 Forty-seven-year-old Ada "Kathleen" Bower, hardened from over three decades of ceaselessly outrunning a pack of inner demons, answered an unexpected knock on her front door, only to find her long-lost son poised on the threshold with a hand outstretched. Equal parts disgusted and horrified, she shut the door on him. Mother and son never saw each other again.
 What if Kathleen had let Charlie Manson in?
GLOVE STORY by Ken Pisani, directed by Rebecca Taylor
Reunited in the present by a young female sportswriter, two retired boxing rivals who fought a racially charged trilogy during the early days of the civil rights movement find that their battles are far from over, as their stewing animosity erupts to hilarious and ultimately poignant effect.
SHEARWATER by Victor Wishna, directed by Karen Wray
Ben, a struggling journalist and novelist, has lucked into the gig of a lifetime: ghostwriting a memoir for Esther Lindman, the colorful and infamously outspoken widow of one of the 20th Century's greatest American artists. But when the stories don't add up, and new pressures mount at home, Ben just digs deeper, soon discovering that truth—like art—is in the eye of the beholder.
THIS HAPPENED ONCE AT THE ROMANCE DEPOT OFF THE I-87 IN WESTCHESTER by Gina Femia, directed by Sonja Berggren
Kevin owns a Romance Depot. Beth needs a vibrator. It's an emergency. The two of them form an unlikely relationship that straddles the line between friendship and romance. What happens when two lonely people find one another? 
our productions have come out of PANNDORA'S BOX.
JUPITER MOON  by  Bob Valine in 2018
IN KINGS & FOOLS by  Kevin Daly in 2017,
SWEET TEXAS RECKONING  by Traci Godfrey in 2016,
MEDUSA UNDONE  by Bella Poynton in 2015,
FRAGILE THING CRACKS by Ben Jolivet in 2014,
CATCHING THE BUTCHER by Adam Seidel in 2013, and
HOOK UPS by Alexandra Petri in 2012.
THESE FIVE PLAYS ARE HONORABLE MENTION FOR 2018 ~
DNR by Victor Wishna

FAT MUSLIM GIRLS by Ken Kaissar

MARIANAS TRENCH by Scott Sickles

THERE IS EVIL IN THIS HOUSE by Natalie Nicole Dressel

TREES BY THE STATION by Kevin Daly
---