Past Productions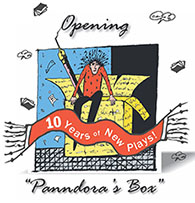 Panndora's Box 2017
Oct. 20, 2017 — Oct. 22, 2017
Venue The Garage Theatre
11th Annual Festival of New Works
"THE DOGS POND" by Travis G. Baker
The play centers on a small band of veterans of our most recent wars, who have gathered for a reunion at their uncle's fishing camp cabin on the Dogs Pond in Maine.  They are vivid, complicated, quirky, messed-up, fully human characters that don't explain or apologize for the way they are. They drink, they smoke pot, they reminisce, they share their crazy stories, they remember friends lost, they argue, they fight, and they try to make sense of the world and their lives in it.  The uncertainty and dangers they face now seem no less than what they faced in Iraq and Afghanistan. Filled with funny, lively, colorful exchanges and stories, The Dogs Pond shifts from the obscene and the comedic to poetic prologues that linger like desperate prayers.
directed by Rebecca Taylor
with Troy Barboza, Philip Bushell, Derek Long, Erik Pfeifer, Pete Taylor, Corey Zetterberg, and Craig Johnson
"JUPITER MOON" 
by Bob Valine
A man looking for a room finds himself living with a woman lost in a world of pain and memories, her teenage son who knows there has to be a better world and would rather live on the moons of Jupiter, and her teenage daughter who knows that her high school is farther away than Jupiter and growing up is enough of a wild and confusing journey. Together they take a journey exploring the distance between people and arrive where they started--at the beginning of a journey together.
directed by Derek Long
with Sonja Berggren, Colleen McCandless, Erik Pfeifer, Jonah Ethan Snyder, and Carmen Guo
"CADAVER DOGS"
by Greg Atkins
In San Bernardino, CA, 1983, police dog trainer Amanda returns home from searching for disaster victims and, still reeling from her trip, encounters Wade, a semi-famous author of murder mysteries desperately seeking her help to find his missing wife.  Add to the mix a scheming sister, a jealous Sherriff and a tequila-fueled night of drinking, and it quickly becomes apparent that nothing is what it seems, family secrets are revealed and murder is on everyone's mind.
directed by Karen Wray
with Adam Brooks, Erin Henriques, Caitlin Lowerre,  Nick Emmett McGee, and Bill Vetro
"WITCH CAMP" by J. Thalia Cunningham
When Sharifa, an African American doctor, volunteers at a small health clinic in northern Ghana, she assumed she'd be the one healing the Africans. And she assumed witchcraft had disappeared in the 17th century. Through her spiritual as well as geographic journey through West African thought, breast cancer, and the concentration-like camps for elderly women accused of witchcraft, Sharifa discovers that the Africans have healed her as much in return.
directed by Pete Taylor
with Kea Bird, Philip Bushell, Ursaline Bryant, Jahna Houston, Ree Johnson, C.J. Williams, and Rebecca Taylor
"WILLISTON" by Adam Seidel
The year is 2013. President Obama is in the flow of his second term, the world is clamoring for alternative sources of fuel, and the US domestic energy boom is in full swing. Three oil reps for a small Midwestern energy company (two veterans and one newbie) come to Williston, North Dakota to score the rights to valuable land. What becomes apparent during the trip is how a new generation of deal making threatens the two veteran reps. "WILLISTON" examines the ways in which we try to carve out our slice of the American dream and asks the question, "At what point does the quest for progress cause irrecoverable damage to our surroundings and ourselves?"
directed by Sonja Berggren
with Andrew Nowak, Pete Taylor, Karen Wray,  and Erin Henriques
HONORABLE MENTION
"COMMUNITY GARDEN" by Ben Jolivet
"GILGAMESH IN LOVE" by David Hill
"HEARTS OF STONE" by Donna Hoke
"THE MERMAID'S PARADE" by Gina Femia
"THE PLAY ABOUT DICK" by Aaron Wilson
---