Past Productions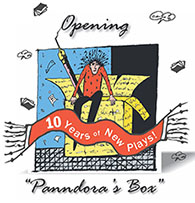 Panndora's Box 2016
Nov. 4, 2016 — Nov. 6, 2016
Venue The Garage Theatre
10th Annual Festival of New Works
"BURNING CITIES" by Simon Fill
An unusual girl writes an unforgettable memoir, with the help of a philosopher, a nurse, and a literary agent. Her story transforms them all as they discover that "family" means more than the people you're related to.
directed by Sonja Berggren
with Eric Davis, Karen Wray, Philip Bushell, Cassandra Bell, and Pete Taylor 
"FOR SALE" by Matthew Fowler
Past, present, and future blend into one as a middle aged man tries to sell the house he grew up in, much to the chagrin of his elderly mother, angst ridden son, and dead father. 
directed by Karen Wray
with Carmen Guo, David Gold, Bill Vetro, Paul Scott, Jason Piazza, and Jonathan Mariott
"IN KINGS AND FOOLS" by Kevin Daly
a full-length drama that centers on a middle-class family as they prepare for their annual labor day weekend barbecue.  The patriarch, a hard-nosed New Englander, and his wife are struggling to make sense of a younger son who has all but cut ties with them and an older son who is quickly becoming the neighborhood outcast.
directed by Derek Long  
with Pete Taylor, Rebecca Taylor, Joshua Evans, Nick McGee, Keira Whitaker, Caitlin Lowerre, Kevin Ragsdale, Erik Pfeifer, and Pam Paulson 
"AN HOUR UPON THE STAGE" by Richard Manley
An old cop and a young hooker, cornered for an hour by coincidence, and under threat of death by the same people, must decide who is relevant enough to live.
directed by Rebecca Taylor
with Darcy Porter, Bill Vetro, Mark Piatelli, Leandro Cano, Rebecca Taylor, and Pam Paulson
"TRUE WILL" by William Triplett
A historical spoof of alliances, patriotism, egos, magic, blithe spirits, the origins of James Bond, and the sexual aspects of yoga, featuring Ian Fleming, Aleister Crowley, Noel Coward, Rudolf Hess and Fleming's two fiancées (one alive, one dead).


directed by Pete Taylor 
with John Wray, Pete Taylor, Derek Long, Phoef Sutton, Karen Wray, Caitlin Lowerre, and Sonja Berggren
HONORABLE MENTION
"ANNIE AND THE FAT MAN" by Gina Femia
"ERSATZ VANILLA" by Cary Simowitz
"MY ROOMMATE LUCIFER" by Alexandrew Recore
"TRUE BLUES" by Rick Reischman
"THE LEMONADE STAND" by Matthew Fowler
---