Past Productions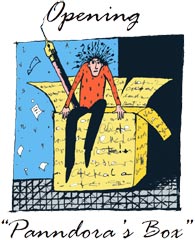 Panndora's Box 2011
Sep. 2, 2011 — Sep. 4, 2011
5th Annual Festival of New Works
Venue Theatre Out, Santa Ana
"Hook-Ups"
by Alexandra Petri
directed by Sonja Berggren
HOOK-UPS is a romp through history, literature and even philosophy -- in bed! What if some of the greatest love stories ever told had been a bit more, well, casual? Five actors explore the hook-up across time, space and history, learning about themselves--and relationships--in the process. with Jen Chambers, Steve Halasz, Erin Henriques, Oliver Rayon, Sky Siegel, Pam Paulson, Sonja Berggren and Karen Wray.
"The Sports Page"
by Larry Herold
directed by Pete Taylor
THE SPORTS PAGE is set in the summer of '66 at Dallas Cowboys training camp on a college campus in Texas. A young man arrives, desparate to join the ranks of the sportswriters he idolizes. But his path is blocked by a couple of crusty veteran scribes, an attractive female television reporter and a star running back who refuses to speak to the press. The young man tries to hang on to his dream, but the world has other ideas. with Pete Taylor, Ree Johnson, Zach Kanner, Steve Halasz, Philip Bushell, and Karen Wray.
"Mocha"
by Eleanor Burgess
directed by Sonja Berggren
A film star, Eliot Henessey arrives in Indonesia with her assistant to adopt a child, attracting the interest of a journalist who questions her motivations, a bureaucrat who hopes to use her to publicize the islands, and a foster father who beiieves that Elior's personal life leaves her little room for a child. Meanwhile Ted and Carol, an infertile couple in the American suburbs, initiate a more normal adoption process, but find that the expense, uncertainty, and invasive examinations reveal rifts in their desires to have a family. with Nesrine Cherkaoui, Erin Henriques, Celia Finkelstein, Sonja Berggren, Jennifer Chambers, Steve Halasz, Oliver Rayon, Aurelio Locsin, Rebecca Taylor, and Pam Paulson
"Urban Legend"
by Lucile Lichtblau
directed by Karen Wray
Set in New York City in the turbulent, crime ridden 1990's, this story of love, trust and betrayal among an elderly Jewish woman, a young Puerto Rican girl and a black drug dealer crosses the boundaries of age, class and race to give new meaning to well known stereotypes. with Carmen Guo, Nesrine Cherkaoui, and Philip Bushell
"Unprepared Mustard"
by Chris Booz
directed by Pete Taylor
Occasionally we have an encounter with someone with whom we have no apparent connection and no conscious desire to make one, and yet engaging conversation emerges; a perchance meeting where two disparate people reluctantly succumb to the allure of companionship. Such is the case in UNPREPARED MUSTARD where the dialogue, often critical and sarcastic, between two desolate people (an anal, reclusive writer and a delusional, homeless man) brings down life-long barriers and becomes an awakening experience for each personality. with Pete Taylor, Ree Johnson, Rebecca Taylor, Darcy Porter, and Aurelio Locsin
Production Photos
---