Past Productions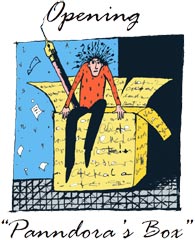 Panndora's Box 2010
Sep. 10, 2010 — Sep. 12, 2010
4th Annual Festival of New Works
Venue Theatre Out, Santa Ana
"Whites in Hot Water" by Garrett Socol
directed by Sonja Berggren
Friday, September 10, 8pm
A stylish "noir" feeling permeates this hilarious tale of murder, love and laundry detergent. It's all in the name of laughs as a conservative detective falls for a tantalizing woman accused of murdering her thug of a boyfriend. Colorful characters from the shady side of town come in and out of the action to support their sassy friend who valiantly fights for her name and reputation.
with Pam Paulson, Pete Taylor, Bill Vetro, Sara Guerrero, Rebecca Taylor, Sonja Berggren, Darcy Porter and Bill Hilton
"The English Bride" by Lucile Lichtblau
directed by Karen Wray
Saturday, September 11 at 2pm
An English woman falls in love with an Israeli Arab, only to become pregnant and embroiled in a potential terrorist bomb plot, as she sorts out her experiences with an Israeli Mossad agent. In a series of flashbacks interspersed with interrogation scenes and monologues, the characters justify, question and contradict one another over what truly happened and who is to blame.
with Jenny Martin, John Wray and Phoef Sutton
"Morning Has Broken" by Alexandra Petri
directed by MaryAnne Mosher
Saturday, September 11 at 5:30pm
Three college students come to grips with conflicting emotions and competing efforts to win each others' hearts. A light-hearted look at a complex romantic situation.
with Travis McHenry, Duncan Hutchinson, Erin Henriques, Sonja Berggren and Sky Siegel
"The Sparrow War" by Laura Edmondson
directed by Sonja Berggren
Sunday, September 12 at 2pm
In this one-act drama, the young pregnant widow of a G.I. killed in Iraq seeks to discover more about her husband's life in the war from the care packages sent to him by well-meaning strangers through Boxes of Love. A tender, touching look at the casualties of war.
with Jenny Martin, Chad Glazener, Sara Guerrero, Pam Paulson and Ree Johnson
"Sea Change" by R.D. Wakeman
directed by Pete Taylor
Sunday, September 12, at 5:30pm
The lighthouse is remote. Its occupants are exiles, always exposed to the changing mood of the ocean. It leaves its imprint on generation after generation. When the sea screams it demands sacrifice and loss, when it whispers it requests life and love. Sometimes it cries out for a sea change and nothing can remain the same. Faced with the threat of mechanization of the lighthouse, a family disintegrates.
with Karen Wray, Pete Taylor, Darcy Porter and Pam Paulson
Honorable Mentions 2010
The art and craft of playwrighting can be a lonely experience. With Panndora's Box, we provide playwrights with a forum in which their works can be read as they come off the page in readings by experienced actors, with the benefit of experienced directors. We are honored so many trusted their works to our company. We wish we could include more. Because we can't, we created a category of "Honorable Mention" for these pieces which would be read if we had another weekend.
"A Decent Woman" by James Johnson
"Happy Holidays" by Jerome Berning [Watch a clip here]
"Sometimes We Find Our Way" by Ken LaSalle
"The Gallerist" by Fengar Gael
"Wedding Sonata in G Minor" by Bryan Carrigan
Congratulations to these talented writers!
Production Photos
---