Past Productions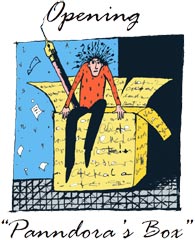 Panndora's Box 2009
Jun. 27, 2009 — Jun. 28, 2009
3rd Annual Festival of New Works
Venue Theatre Out, Santa Ana
"STAR TURN" by Linda Whitmore
"SUNDAY'S CHILD" by Jennifer Jones
"DENOUEMENT" by Jack Raymond
"THE WALL" by Jonathan Chapman
"THE MORNING AFTER THE NIGHT BEFORE" by William Coleman
The weekend of June 26-28 saw another fantastic new works festival. We were inspired by the works submitted and look forward to starting again reading pieces for next year's festival.
A hit with playwrights, actors, directors, critics and audience members.
Comments from participating playwrights~
"I have won playwrighting contests before, and it's always a gamble with a staged reading. A writer never knows how a director and cast will interpret the work, let alone infuse life into the script. But my experience with Panndora's Box was so totally positive. I can't wait to work with them again! They were extremely creative, professional and a lot of fun. Keep breaking legs, Panndora!"
-Linda Whitmore, author of "Star Turn"
"Encouraging, enthusiastic, and helpful are some of the words that define my experience with Panndora's Box. Playwrights are alone as they create, but I did not feel alone once my play was selected as part of the Festival. I felt that I was in the best of hands - and I was. Their professionalism is outstanding, their personal consideration is most welcome, and their organization is superb. Thank you, Panndora's Box, for everything!"
-Bill Coleman, author of "The Morning After the Night Before"
If you are searching for a company that truly values new work, look no further than Panndora's Box. I have had many experiences with playwriting contests and festivals before, but none have been as positive as my time with Panndora's Box. The director, Karen, honed in on the various elements of my script beautifully; the cast was both talented and highly insightful; and the whole company made me feel right at home. Definitely a company I can't wait to work with again!
-Jennifer S. Jones, author of "Sunday's Child"
Honorable Mention category
The art and craft of playwrighting can be a lonely experience. With Panndora's Box Festival of New Works, Panndora Productions provides playwrights with a forum in which their plays can be heard as they come off the page in readings by experienced actors, with the benefit of direction. The third year of Panndora's Box again saw a dramatic increase in the number of plays submitted. We received 150 works from across the country and around the world. We are honored that so many playwrights trusted their works to us, and because we can't include more in the Festival, we created a category of "Honorable Mention" for those pieces we found particularly inspiring. The following plays received Honorable Mention in 2009:
"A CHANGE OF HEART" by Chris Mandia
"BEGGAR AT THE FEAST" by Fengar Gael
"HANSEL AND GRETEL by Ray Jacob
"SEEKING FLIGHT" by Joan Dunayer
"TRADERS" by Arash Karami
Production Photos
---