Past Productions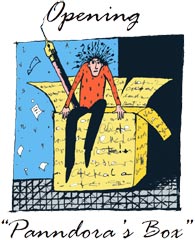 Panndora's Box 2007
Nov. 2, 2007 — Nov. 4, 2007
First Annual Festival of New Play Readings. Five new full-length plays selected from submissions from across the country, read and directed by seasoned actors and writers. A weekend devoted to the development and support of new works of drama.
Venue Queen Mary, Long Beach
THE EX-HUSBAND PLAY by Barbara Lindsay; directed by Karen Wray
LIMBOLAND by Alan Witchey; directed by Cecilia Fannon
ORIGAMI by Andrea Sloan Pink; directed by David Gold
GOOD BREEDING by John Lane; directed by Pete Taylor
DRINK ME by Mary Fengar Gail; directed by Sonja Berggren
Happy playwrights share their thoughts . . .
The Panndora's Box New Works Festival has quickly become an important part of the vibrant Southern California theater community. Sonja and Karen produce exciting new works with passion and grace. Their commitment to groundbreaking theater comes through in the vital community they have created. Working as part of Panndora's Box is a wonderful privilege!
-Andrea Sloan Pink, author of "Origami"
I had a terrific time at my Panndora reading. The cast was lively and talented, and the reading allowed me to hear the play, what it held and what was missing. I appreciate the thought and attention that went into the reading.
-Barbara Lindsay, author of "The Ex-Husband Play"
I have attended three of Panndora's staged readings (including my own) and felt they were first class. As president of New Voices Playwrights, I always pass on any notices about Panndora submissions to the playwrights. The other advantage to us also is that the productions are local (LA or OC) so we can always attend.
-John Lane, author of "Good Breeding"
Panndora included "Drink Me" in their first Panndora's Box New Plays Festival on the historic Queen Mary. The talented cast and company were joyous and imaginative collaborators. Despite our time constraints, there were some significant dramaturgical discoveries made, and the written critique was insightful, generous and encouraging. I know the script of "Drink Me" emerged more action-driven and succinctly crafted than before our process began, and for that my gratitude is boundless. ["Drink Me" has since been produced at the Moxie Theatre at the La Jolla Playhouse!] It is a rare privilege to participate in an institution like Panndora Productions that serves new plays and playwrights at all levels of development. Panndora Productions is enabling fresh, unprecedented plays to be heard, plays that contribute at every level of their growth to the language and culture of their times, and perhaps help others find consolation in the struggles of characters like Fossmire - who was last seen conjuring snake oil on the streets of London!
-Fengar Gael, author of "Drink Me"
---